Southern Magnolia Minerals all natural organic bare skincare makeup have been designed to help our customers achieve a "pure, beautiful, natural flawless you" look, effortlessly! We hope that you'll enjoy these before and after photos, and will be inspired to get the look of bare, luminous, beautiful skin with Southern Magnolia mineral makeup! You can be minutes away from a flawless face!
Are you a Southern Magnolia Mineral Cosmetics fan? We'd love to feature your before and after photos in our gallery! Please contact us for more information.
Meet Some of Southern Magnolia Minerals' Satisfied Customers...
)
| | | |
| --- | --- | --- |
| A video testimonial from our new customer, Faye S. | | A video testimonial from our customer, Kola. |
Here's a Sneak Peek at Southern Magnolia Minerals Very Own Founder, Barb!

Barb, I've got to say you have just got such a WONDERFUL array of color choices! I LOVE my new eye shadow and blush collection set! I must recommend them to everyone. I'm telling you, the photos are great, but they do the colors and textures NO JUSTICE! And I know that I would have missed out on my favorite colors had I not gotten the whole collection to toy around with (lol).

Oh, and about the concealer and foundation minerals - Absolutely Perfect!!! Most of the time my skin is rather clear, but it is a bit "uneven", I feel like an old maid without my makeup (see my 1st picture? I look sooo saggy and slouchy). Your makeup has does wonders to create an even, fresh and young skin glow. I love it!

What I want to share, above my love for my new mineral makeup, is my experience working with and for Barb, the owner of Southern Magnolia Minerals. There is just something uniquely different about Barb. She has such an enjoyable personality, yet her determination, hard work, and DEDICATION never cease to amaze me. I thought it very important for you to know that not only is the makeup great, but you truly can not beat Barbs wonderful and uniquely genuine customer service!

Most Sincerely,
Crystal Calhoun (website designer)

Allyse is wearing

Ashley is wearing:

Mint green cream concealer
Light foundation
Bisque concealer
Finishing veil
Mojave blush
Blue slate eyeliner/shadow
Wisteria shadow
Purple heart shadow
Honey rose blush
(highlighter below the brow)
We often use this blush as a highlighter - it's airy and pink with a bit of sparkle

I have to tell you how SMMCosmetics saved the day today :) [:)] I wasn't planning to go out today, so I skipped putting on makeup. Then I get a text from my daughter that her ride fell thru and she needed me to pick up her and her friends from the yogurt shop, asap.

Thanks to SMMCosmetics I was able to "put my face on" in one minute - literally! I dampened a liner brush and glided on some Slate Blue liner/shadow on my upper lash line (blue seems to "wake up" tired eyes), brushed some bisque concealer under my eyes, dusted Illusion Mineral Glow over my whole face (great for when you're under the weather!),

and then a brush of Mojave blush across the cheekbones. I put on some lip balm on the way out the door. Checked my look in the car mirror and I was impressed how SMMCosmetics could make me look "put together" in just one minute!

Modern life is too hectic not to have Barb in your corner! :) [:)] I'm looking forward to trying the new things that came in today :) [:)] Thanks for helping make 2012 even more stellar :) [:)] Allyse (Ashley's mother)

Hi Barb!

Happy New Year to you!

I was rather reluctant to submit these, because I barely let my husband see me without make-up! Haha! However; I do want everyone to know what wonderful products you have, so I'm willing to sacrifice my pride. :)

For years, I have tried everything under the sun to try and match my skin tone. It's tough being fair-skinned, and everything else seemed to make me look like an oompa-loompa! Thank goodness I came across your website, because I will never try anything else!


I'm always getting compliments about how lovely my make-up looks, and I don't hesitate to tell them where it came from.

In the after photo, I used the following: Velvet Veil Primer, Diva Defense Mineral Foundation - Petal, Well Rested Eyeshadow Concealer, Double Bubble Blush, Black Beauty Eyeliner, Copper Top Eyeshadow, Silk Kiss Glow Dazzle Dust

Thank you so much for creating fabulous products at such reasonable prices. I love how compassionate you are about making all women beautiful! Thanks again and take care! *~*Casey Foggitt*~*

Hi Ya'll My name is Kriss!!! I'm a stay at home mother of 4 beautiful children. Georgia who is 12, Andrew is 10, Thayne is 4 and Belle is 23 months. I am a cancer survivor!!!

I was given a gift of southern minerals early last year. I had tried so many different things to cover dark circles and puffiness from the effects of treatment. I couldn't find anything. My mother in law bought me the southern minerals stuff in hopes that it would do something, anything to hide my marks. I was very skeptical and had just about given up trying to find something so my beauty would show on the outside like it was on the inside.

Holy Moley was I shocked. Not only did I not have to wear a ton of goop on my face but just a little covered everything. I went to the cancer center one day wearing my new makeup and was talking to another mother that was there. She loved my makeup so much and had the same issues I did. I ended up giving her all my makeup(which I'm happy to report worked wonderfully for her as well) I have never had problem skin, but the effects of chemo sure did a number on my eyes.

I'm so glad that I was introduced to this makeup and will forever be a lifetime member of this beautiful lady club. Thank you so much for taking the time to read about me :)

Forever Strong,
Kriss

I used the yellow undereye cream concealer, well-rested concealer/shadow on my lids and over the cream concealer, and mint cream concealer on my red spots. Medium foundation, medium veil, coffeebean eyeliner, godiva, moody and bit o' honey eyeshadow.
Hi Barbara,

You have called for Before and After pictures, so here are mine :)

I don't use bright eye shadows, prefer natural, clean look . I have two kids -2,5 y.o. daughter Nataly and 3 months old baby-boy Nicholas, so I don't have too much time to spend on putting on make up and your minerals are great! I can apply them on my face in a couple of minutes! Love it :)

For those pictures I used a little bit of sun-kissed foundation and Beautifully Bare Skin Illuminizer Mineral Makeup Kit ( I gave it a try when it was on special on Groupon few months ago and use ever since :)).

On my eyes I used sun-kiss bronzer as an all-over shadow,and Swiss Java eye shadow. On my cheeks - Sun-kiss bronzer and Pinky Promise Mineral Blush and of course Illusion Mineral glow all over my face ,and Petal Pink HD Illuminizer Finishing Powder on my cheek bones and forehead. Unfortunately I have not tried your Eye Silk Cream and Eyelights Concealing Eye Illuminator, but it is on my list for the next buy :)

Thank you for your wonderful minerals! I love how my face glows when i have them on :)

Olga
I'm wearing the perfection primer powder, eyelights concealing eye illuminator, medium foundation, camo lace radiance, pinky promise blush and one of your brown eye shadows called swiss java. Love it!
My skin is pretty clear without the makeup, but the tone is somewhat uneven, and I have under eye circles. Because of the circles, even on the days I don't wear makeup, I never go out without some concealer under my eyes to balance that out. The Southern Minerals cover the imperfections and the dark circles disappear. I love the fact that the minerals are water-resistant. Even when I get a little sweaty, or the day is hot, my face still looks great!

I use Pearl White Shadow combined withGolden Honey Warmth under my eyes, over my eyes in the dark parts near my nose, and a thin line down the center of my nose. I then apply Deep foundation with a kabuki brush.

I use the Dare or Merlot Shadow as a blush (in this pic – the Dare). line my eyes with a Coffee Bean dark liner, and apply mascara, set the look with Tinted Resurfacing Veil to control oiliness. apply a neutral brown lipstick and then add some of my Dare Blush to create my own signature lip color.
I LOVE these products. I have been using them for a few months. I wanted to see just how well they would stand up to the summer heat..WOW..the best ever!!

I am a part time model and make up artists and photographers have asked me to bring my own foundation because they can't believe how well it covers! It's better than anything any of us have ever used. It lasts under heat, lights, and the wear of everyday. I can wear it on shoots and to school without feeling like my face has plaster on it. I wear the foundation powder in Be Fair, eye shadows in Blue Water, Daisy, and one that I have used so much it no longer has a label..lol. Honestly, this stuff is so great and so much better for the money than other stuff.

I can't believe I am showing you my before face...but you HAVE to see the difference. its amazing. Please do not ever stop making this stuff!! -XOXO Jen
Heather's Story:
Heather ordered samples of a few things back in the summer, and told us the story about her son being in a terrible accident, and losing another loved one. Things were tight with expenses and she had to make some concessions, and as happens to many women in similar circumstances she put her son first. When we heard her story we immediately wanted to help and decided to surprise her with a really nice "me time" care package along with her order. She has been a customer ever since, and will only wear Southern Magnolia Mineral products. It is stories like this that warm our hearts, and makes us feel soooo good and grateful about what we do!
Heather's words: I wanted to share this video with y'all. This is the first time in my life that I ever danced with Gage, and the fact that it was at the Marine Corps Ball the day after he was released home from being in the hospital for 7 months makes it all the more special. This is the kid they said had an approximately 10% chance of living and if he did, he'd probably never walk or talk again. I believe God has much bigger plans for Gage and I also believe it was because of such wonderful people like y'all who sent up prayers and kind thoughts that he is here. He is a miracle. -Heather, Southern Magnolia Minerals Customer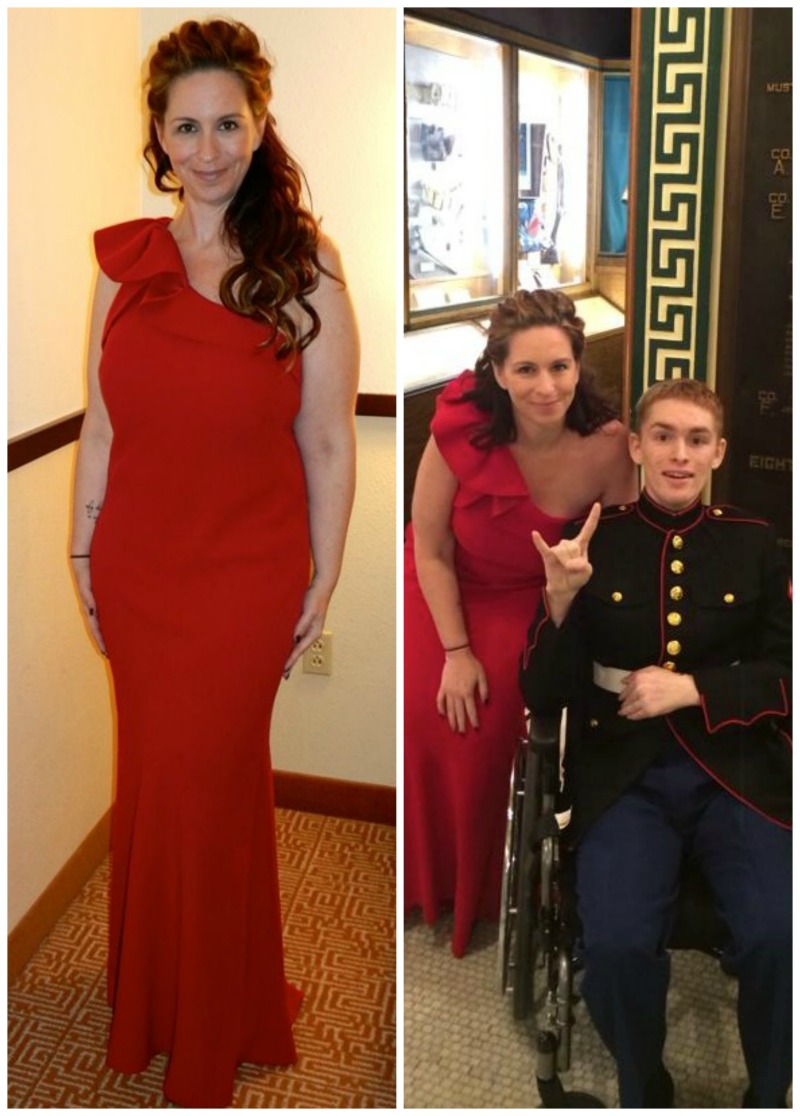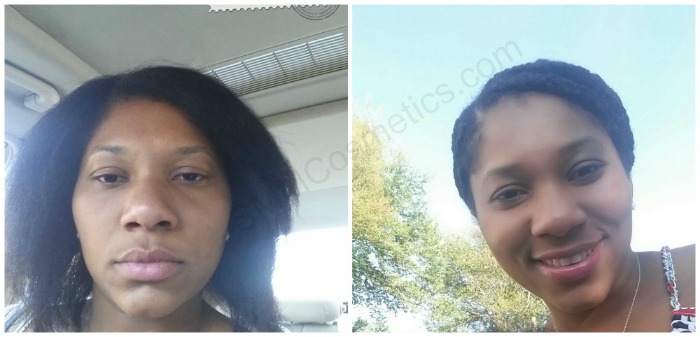 June 2015
Barb, I wanted to share my before n after pictures. I love your product. I used the liquid foundation for the first time Saturday and let me tell you I love it. I don't usually wear foundation because they usually too heavy and my skin is very sensitive , This one is very light and look natural. I have several of your lipsticks too, I'm wearing Cherry Tart in my after! I just want you to know how addicted I am with your product.
Tx Irmine
CUSTOMER TESTIMONIALS
Miss Barb, thank you for your kind note! I love your products and with these products- I don't have a chicken neck! lol I also love the Instant Firm Skin Tight Facial Serum! I use it around my eyes, lips, and two areas around my chin; I know I'm a little long winded but I wanted to let you know that I have NEVER had a reaction using your products, even during chemo! And thanks for the free samples!!!
Sincerely, Mary
I've always been a big makeup person. I've studied theatere makeup, hung out in New York, always have an idea to make myself and my friends look runway ready when we walk out the door. Of all the products I've used and tried, I never tried yours until my mother bought me one of your kits for my birthday.


I have to say, thank you for such a wonderful product. I recommend it to everyone, your bisque multitask concealer foundation and lash primer are my absoulute favorite products for my " making me sexy" regime. Now everyone is following in your shoes with the mineral makeup and I'm afraid to try anyother becasue I have such sensitive and fair skin. I usaually did without foundation becasue I always broke out or felt it was heavy and made me look old. I've have been using your products for over a year now, and really just wanted to say thank you. Sincerely, Demetria S
I just wanted to let you know how happy I am with your products. I originally thought I purchased bare minerals from you. I did go ahead and try their product as well and I hate it. I gave it away to my sister and I am so happy I found you on ebay. I since ordered "tan" and love it.

I also wanted to tell you I received 2 emails from other ebay members asking if I liked your product before they tried it and I told them what I just told you!!!!!!

Thanks again for the free samples you sent with my order and I have you as my #1 favorite seller!!!! And my skin thanks you. Tammy
I just wanted to tell you that I absolutely love your products....every last one that I have tried. They have made a wonderful difference in my blemishes and they are nearly completely healed and gone, which I didn't think possible, particularly for a large one just below my nose and above my upper lip! Thank you so much for the wonderful products. I know just where to look when I am shopping for new colors and such...Thanks again! You rock! Lucinda
Wanting to thank you, for making gluten free, chemical free. I have MS, since being diagnosed I can no longer wear certain makeup. My daughter found your products. I can only wear your make-up and lipsticks. Again thank you. I am a new cutomer for life. having MS changes your life in so many ways, but now I feel pretty again, and walk with my head held high... Lisa T.
I just wanted to say I received my package from you yesterday. I was a little disappointed initially because my goal was to try the original Bare Escentuals Bare Minerals and honestly I thought that's what I was getting. However, I tried your minerals this morning and OH MY GOD....they are fabulous!! I'm very glad I purchased these and will definitely be purchasing more. I have used several different brands of minerals but never the Bare Escentuals and I truly can't imagine that they could be better than yours. Thanks again! Stacy
Hi Barbara, I am a new customer to Southern Magnolia Minerals and just had to send you a quick email. I am originally from South Carolina and now live in California. Although I try not to be biased, my heart is still in the South! Therefore, when shopping online for my usual bare essetials I happened upon your website. I am so glad I did. I took a chance and jumped both feet in and bought a large kit. I am so glad I did. I love every product that was included. You have my business from now on and I am telling all of my friends about it. I have had comments about how well rested I am looking and I jump right in to tell them all about Southern Magnolia.
I am the Mom of a 14-year old who has started to wear make-up now and have deceided to introduce her to this line as well for her birthday. Again, thanks for making such good quality products for us and at the same time keeping it affordable. Peggy
Hi and thank-you very much. By the way I LOVE your products!!!!! Unlike other cosmetics that make my skin feel like it is being smothered and can't breath, I can't even tell I have anything on!!!!!! For the first time in years I can wear make up again! Shelley
Dear Barb, I had to write to say... Wow! I love everything in my kit...it all goes on so easily and my skin glows! Even on days when I'm a little rushed...a little concealer, foundation and Mojave blush and I'm set! What a godsend you and your products are. And to boot! you only have to use a little...I'm set for a while and so that gives me the opportunity to try your other products...Yippee!

Thanks for the extras (iity bitty bukis are great and especially when I go on vacation). The foundations were so right on the money for my skintone.. .no countless mixing and messing around. Gush, gush...can't help it when it's the truth and it's good for you.

My skin thanks you and my boyfriend and I thank you. Super Kudos to ya, Barb!
Thanks, Li
Dear Barbara, the goodies arrived yesterday, and I have opened and used one set twice. The quality is 5 stars, (prefer it to the other company by far) It does just what I wanted it to do, cover some skin discolorations "quietly". I can't see them or the makeup. Hooray!!! You have a wonderful product, Wanted you to know how very pleased I am, terrific product, I will be back. Regards, Alex
I just love your make-up, I used to use Signature Club A from HSN. Not anymore. This is even better than that!!!! Thanks so much. Terri
Thank you for making such wonderful products! Thank you for great customer service and excellent shipping, even to Alaska. I'm glad I picked you to start my adventure in mineral makeup and skin care produts. When I was in my 20's I couldn't see much wrong or damage to my skin so I didn't take care of it much. As soon as I hit my 30's and had a child oh no! Sun damage, acne damage, large pores, fine lines, etc. Regular makeup looks fake on me. I have a hard time with foundation; I don't know what I'm doing and when I'm experimenting it's not very forgiving. I had enough and wanted to try mineral makeup. The expense made me leery. I'm not into paying for designer names and such. When I was looking on ebay something pulled me to your products. I liked how you educated yourself about cosmetics, your home based, and your customer service. I tried your "Ultimate Bare Beauty" kit. When I looked in the bathroom mirror I said "Oh Wow!".


Even with my inexperence and not knowing what I am doing or how to do it the makeup made me look good. Even my husband says it looks good! I'm hooked, line and sinker! Now I'm trying the skin care products that I recieved to day. I'm happy and plan on being a life long customer. And am confident enough in your products to pass them on to my daughter when she is old enough and wants to start wearing makeup. She will start out with the best makeup. Thank you! Thank you! Thank you!
Marci