Posted by Barb Maynard on 30th Jul 2020
Quick Tips to Contour and Highlight for Every Face Shape
Ever wonder why your makeup looks fab in the mirror but in photos your face falls flat? You need to contour and highlight to bring out the natural angles of your face. The camera isn't very forgiving and whitewashes it all, but with a few tips on how to sculpt your face shape beyond the foundation and blush, you'll look the very picture of perfection!

Without further ado, let's get into how you can enhance your face shape through a few simple contour, highlight, and sculpt tricks tailored to you!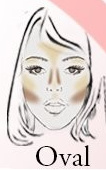 1. Oval Face
With an oval face shape, you have the best of round and square features. Balance with contour and highlight products is the key. You should shade along your hairline, in the cheekbone hollows, and just beneath your chin. With that last point though, be soft with your contour product…you don't want to wind up looking like you have a goatee!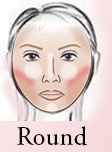 2. Round Face
Round face shapes need shadows to sculpt them out. When you simply use foundation and blush, you're not creating the right contour and wind up looking wider. Apply contour shades about a quarter inch higher than the hollows of your cheekbone and blend them upward. You'll also do this with your jawline to create a more angular appearance.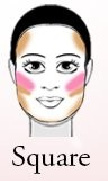 3. Square Face
If you have a square face shape, you have more angles which you want to reflect away by doing a highlight instead. This softens things up and ideally, using an illuminator on your brow, top of the cheekbones and tip of your nose will create the right results along with your foundation and blush. Contour is not recommended unless you shade lightly along the hairline. However, the power move for this face shape is to highlight below the apples of the cheeks. Bam!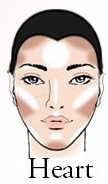 4. Heart Shape
A heart face shape is among the luckiest because contour needs to be at a minimum. Along the temples and chiseling your cheekbones along with added blush is really all you need.

5. Triangle Shape
With a pear/triangle face shape, your forehead is narrower while your jawline is wider and strong. You want to narrow the lower half to even it out. Contour on the side of your jaw to soften the angle, along your nose, and on your forehead. The counter it with highlight on your brows, under your eyes, on the bridge of the nose, and on your chin. Don't forget blush below your cheekbones to finish it off!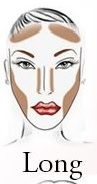 6. Long Face
A long face shape needs balance. You can achieve this with contour along the top of your forehead as well as below your chin and entire jawline. This makes it appear as though your face is shorter. Don't forget to add depth with cheekbones by taking the curve of your contour underneath.
When you go with your face shape, you'll be able to contour and highlight without looking like a stunt extra in a movie explosion. Practice when you have time too so you don't wind up having to redo your makeup at the last minute before heading out and you'll face your shape like a pro!