Posted by India Stone on 6th Dec 2014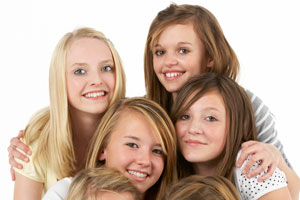 Experimenting with makeup and fashion is both exciting and stressful for a teen - Going wild with hair styles, daring to try new clothes and wearing makeup for the first time are all ways in which teens can explore and grow as individuals.
To help them avoid makeup faux pas, get involved in your teen's beauty regimen. Help them choose a makeup brand that is formulated for a teen's sensitive skin. Educate them about the importance of makeup ingredients while you take them shopping for fun new clothes. It's a fun way to let them know you embrace their need to feel unique while providing a safe way for them to experiment.
By starting them off early with safe makeup, you are helping them to avoid skin issues later in life such as acne, irritation caused from makeup allergies and dryness. Many teens fight acne for years, not knowing the dry, flakey skin and reoccurring outbreaks can be caused by the makeup they use to conceal it.
We can't tell you the secrets to perfect parenting, but we can offer a way to protect your makeup-toting teen from something you may have never seen coming: dirty makeup.
Things to consider when buying your teen her very first makeup kit:
Breakouts
Sensitive skin and makeup allergies are opportunistic. They rear their ugly heads when there are triggers present, like allergens and harsh chemicals. Sometimes, it's impossible to know you're allergic to something until you've been using it for some time. This is where experimentation comes in.
If this is the first time your teen has tried makeup, take it slow. Try a small amount on the under side of her wrist to make sure she is not allergic.
Acne
Because a teen's hormones are changing so much, acne breakouts can be more difficult to control. Sometimes it doesn't matter whether the teen wears makeup or not, the acne just won't go away.
While you may not be able to get rid of acne all the way, you can help your teen break the cycle that leads to worsening the acne. It begins when the first pimple appears. Your teen may use harsh cleansers to zap zits. But this only leads to overly dry skin – a perfect environment for further irritation. Your teen may try desperately to conceal those horrible zits and dry patches using heavy, sometimes oily makeup, which clogs pores and leads to more breakouts. And the cycle begins anew.
If acne is an issue for your teen, ensure she is using gentle skin care products that do not dry out the skin or contain harsh chemical ingredients. SMM's line of acne fighting facial cleansers, toners, masks and moisturizers provide a safe alternative.
Let her try various skin care products to see what works and what doesn't. Remember, just because your skin type is one way doesn't mean hers will be the same.
Safety
Just because toxicity is low doesn't mean the effects of chemical ingredients in cosmetics aren't real. Even small chemical changes to a teen's growing body may cause health issues later in life.
Their bodies are transforming from child to adult before our very eyes, and before you know it, they'll be on their own, doing their own thing.
Educate them early about why safety in cosmetics is important and how to find "safe" makeup brands. It's the right thing to do and it shows them how conscious living can help improve overall health in life.
By choosing a makeup brand wisely, you not only protect your health, you also set a positive example for the girl-turned-young lady in your life, that harmful ingredients in your cosmetics are not allowed under this roof.
Try SMM's Start Now Trial Kit, the perfect holiday gift for teens and tweens.