Posted by India Stone on 6th Oct 2014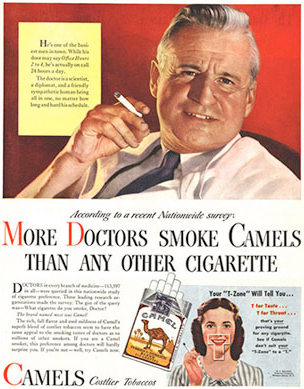 Back in the Day
Do you ever see old footage of people doing really stupid things? Like cigarette smoking while pregnant, or feeding 7-Up to a baby?
At the time, the harmful effects of cigarette smoking and poor nutrition were unknown. So we'll cut grandpa Bert some slack, even though he did blow pipe smoke in your face all those years.
Focus on Cosmetics
Today, the focus has shifted. Instead of cigarette smoking or nutrition, we're talking about makeup ingredients.
Over 30 years ago, my mother would use a giant powder pouf to apply baby powder all over her body. She would also put it on me. The room would be filled with white clouds, and I remember tasting that powder in the air as it billowed around my nose and mouth.
Now that I look back on that time, I thank my lucky stars that we are both still healthy.
We've Come a Long Way, Baby
The U.S. has yet to ban many cosmetic ingredients known to cause health problems in humans and the environment.
Take talc for example. Talc is the first ingredient in almost every major drug store brand of powder, eye shadow and blush. Some 'talc-free" powders are advertised as nontoxic and sold at a premium. However, even some brands claiming to be 'talc-free' are filled with micronized nanoparticles that are just as harmful to your respiratory health as talc would be.
In small doses, talc is not that harmful. But it's easy to think you're using a little when you're actually using a lot. If you use more than one talc-based product on your face or body during your daily routine (link to "Makeup Kit Challenge") you are increasing your risk of health problems in the future.
According to Skin Deep, talc poses "risks for respiratory toxicity and cancer." In 2013, the first case of ovarian cancer caused by exposure to talcum powder was brought against Johnson & Johnson, one of the biggest manufacturers of baby powder. More cases will likely follow as these industrial-scale manufacturers of cosmetics finally begin to phase out those dangerous ingredients we've all known about for so long.
*Images from Time.com