Posted by Barb Huffman on 23rd Jul 2014
Toner is an important product in maintaining clear and radiant skin. Its purpose is to gently remove any dirt/makeup residue or dead skin that didn't come off during normal cleansing, and in some cases it can add a beneficial ingredient for certain skin types.
However, not all toners are created equal.
Many drugstore brands contain alcohol, which does initially give your skin a feeling of tightness, but is also very drying.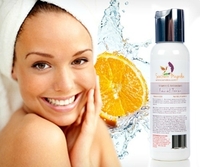 On the flip side, Southern Magnolia's toners all contain natural ingredients to nourish the skin, and do not include alcohol.
Another claim many drugstore brands make is that one toner works for all skin types – this is just simply not true. Southern Magnolia Mineral Cosmetics on the other hand makes toners for specific skin types.
For example, the Acne Blemish Astringent contains natural ingredients, such as black willowbark (which is one of the natural sources of the powerful acne fighter, salicylic acid) and balances the skin's pH to avoid future breakouts. Similarly, for mature skin, the Alpha Hydroxy toner contains AHA, which helps remove dead skin on the face and stimulates new cell growth for smoother skin.
Give your face the gift of natural ingredients that work for your skin.
Check out all 4 types of toner at Southern Magnolia Mineral Cosmetics and decide which one is right for you!