Posted by India Stone on 23rd Nov 2014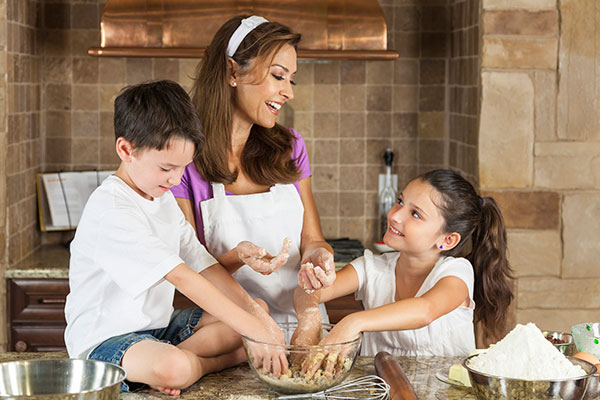 Hosting parties for the holidays can be lots of fun, but it's also lots of work. Don't sweat it. Just because you've been cooking all day doesn't mean your makeup must pay the price.
Here are tips on how to keep your makeup looking fresh during the busiest times of the season.
Makeup for the Hostess
There are two types of holiday parties: those that are hosted by you, and those that are hosted by others.
If you find yourself hosting, there's a good chance that you may also be cooking. Cooking means loosing track of time, which leads to no attention being paid to your makeup.
There are a few things you can do to avoid greeting your guests with a messy face.
Water Proof Mascara
One of the biggest problems for cooks who wear makeup is running mascara. Moisture from the oven (and from your own sweat) can wreak havoc on your eye makeup.
Water proof mascara stays in place all day, even if you decide to take a polar bear plunge. Not to mention, waterproof mascara can save you from your own emotions. You know you'll be reaching for that box of Kleenex when you gather around to watch It's a Wonderful Life.
Sheer Foundation
Picking the right foundation for hosting is so important because when your foundation fails, everything else follows suit. Wandering eyeshadow, bleeding lipstick and running mascara can be symptoms of a foundation that isn't doing its job.
Even the best liquid foundations can streak and smear after a few hours in the kitchen. To avoid all this, don't use a thick foundation. The cakey stuff can streak and smear as you sweat.
Instead, use a sheer powder foundation. Mineral powder is super absorbent and does the best job of controlling oil around the forehead and nose. More importantly, mineral powder foundation helps keep your other makeup in place. So even if you apply your makeup in the morning, you'll still be ready to greet your guests in the evening.
Mineral powder also does a great job of sopping up those annoying dropplets of sweat that form under the eyes and above the lip (#Sweat-Stache!).
If you aren't too self-conscious about your skin tone and don't have oily skin, consider skipping the foundation all together. Your pores will thank you.
Wine-Colored Lipstick
If you will be indulging in red wine this holiday season, choose a lipstick that is wine-colored.
Whether you're hosting for the holidays or attending a formal party, stained lips from red wine is not attractive. Merlot, Cabernet, Shiraz and other deliciously deep-colored wines act like a permanent marker, creating dark (sometimes blackish) stains in the crevices of your lips and even on your teeth.
Instead of trying to wipe it off (which doesn't work) and loosing your lipstick in the process, wear a dark lip shade that will camouflage any stains caused by drinking wine. Try SMM's Moulin Rouge, Cabernet or, most aptly named, Plum Wine. To make your lip color last longer, apply the first coat, dust lightly with mineral powder, then apply a second coat before finishing with gloss. Because the last thing you want is for your lips to give you away.
Makeup Fixative
Fixative for makeup is a great idea for cooks or anyone else who wants to make sure their makeup stays in place no matter what.
Eyeshadow and blush fixative works to hold powdery forms of makeup in place, like loose powder blush and mineral eye shadow. Even if you're using pressed or liquid eye shadow, a good fixative gel can really save your makeup look.
Another way to prevent eye makeup run is to use eyelash fixative. Sometimes known as mascara sealer, this fixative turns regular mascara into waterproof mascara and goes on just like mascara. This way, nobody thinks you have your holidays confused when you greet your guests with black scary eyes.
Do Dab, Don't Wipe
When the heat of the kitchen becomes too much, don't forget about your makeup. If you can feel beads of sweat forming on your forehead, try not to wipe at it. This can smear makeup, creating an uneven appearance. You may also end up removing most of your makeup.
Instead, dab your skin lightly with a soft tissue. This will absorb excess moisture from your skin while allowing makeup to stay put.
Take Time for Yourself
When all the cooking is done, take a few minutes to yourself. Before your guests arrive, do a quick powder touch-up using a fat kabuki brush. This will make you look as if you spent all day getting ready. Next, take a deep breath, look in the mirror and tell yourself how awesome you are. Now it's time to go fourth to enjoy your friends and family.