Posted by India Stone on 26th Sep 2014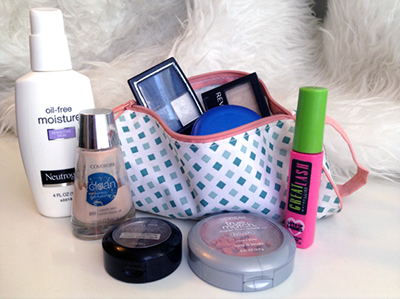 We hear about toxins in makeup all the time, but sometimes getting shaken up is the only way to get motivated to do a complete shakedown of your makeup kit.
After learning more about the potential side effects of using ' dirty makeup', I decided to do my own medicine cabinet shakedown. Brace yourself:
Start with the Top Five
I picked out my top five most used cosmetic items. For me, this included:
Neutrogena Facial moisturizer
CoverGirl Foundation
L'Oreal Blush
L'Oreal Eye Shadow
Maybelline Mascara
These are typical drug store brands. I can't afford to shop at the high-end department stores, and I certainly cannot afford to pay up to 20 times more for 'nontoxic' makeup at specialty boutiques or holistic markets. I usually end up buying whatever is on sale that day or sticking with the old faithfuls that I know will work.
Read the Ingredients
First of all, it was surprisingly hard to find ingredients on any of these products. Thankfully, EWG's Skin Deep Cosmetics Database was there to help me make sense of things.
Neutrogena Oil Free Moisturizer for Sensitive Skin
My Neutrogena Oil-Free Moisturizer for Sensitive Skin had no ingredients on the bottle, so I had to look it up online. Wonderful news; I've been slathering my face and neck with Propylparaben, Oxybenzone, BHT and Methylisothiazolinone, reproductive hormone disruptors and toxins that attack the immune system.
The Safer Alternative
As an alternative, try Anti-Aging Vitamin C Face and Neck Radiance Cream, by Southern Magnolia. Instead of cheap chemical ingredients, this formula uses organic extracts that are safe and natural.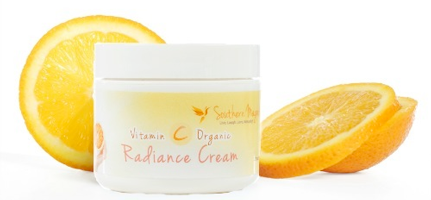 CoverGirl Clean Oil Control Foundation
My CoverGirl Clean Oil Control foundation also listed no ingredients on the bottle, nor did CoverGirl list the ingredients on their website. I finally found a complete list of ingredients on Skin Deep. Lo and behold, more Propylparaben and methylparaben.
The Safer Alternative
Try SMM Organic Antioxidant Liquid Foundation.
L'Oreal True Match Super Blendable Blush
This blush also contains Propylparaben, in addition to Butylparaben, Isobutylparaben and a healthy does of D&C Red 30 (CI 73360) and D&C Red 36 (CI 12085), chemical color ingredients known for their "bioaccumulation". According to Wikipedia, bioaccumulation is "the absorption of a toxic substance at a rate greater than that at which the substance is lost." I wonder how much of that stuff I have floating around in my body? How many years will it take to flush out before I decide to have kids?
The Safer Alternative
Non-talc-based Pinky Promise Satin Mineral Blush, by SMM.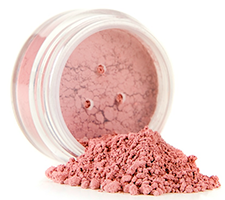 L'Oreal Studio Secrets Metallic Eye Shadow
For my eye makeup, I was using L'Oreal Studio Secrets Metallic Eye Shadow Set every day. Again, no ingredients on the packaging, but when I looked it up online, I found out the first ingredient is talc.
The Safer Alternative
A safer replacement to the L'Oreal Metallic shadow would be any of SMM's mineral-based eye shadows. The great thing about these eye shadows is that they can be worn dry, like a traditional eye shadow, or wet for an opaque look. You can also use any shade as eyeliner.
The first ingredient in SMM eye shadow is magnesium stearate, a naturally occurring fatty acid rated "0" (least harmful) on the Skin Deep cosmetics database.
Maybelline Great Lash Washable Mascara, Brownish Black
Again, no ingredients on the mascara packaging or on Maybelline's website, however Skin Deep shows this product containing Quaternium-15 (Formaldehyde Releaser). Apparently this stuff causes cancer and is rated "8" on the danger score where "0" is least harmful and "10" is the most.
The Safer Alternative
Pro-Vitamin Lash Builder Mineral Mascara by SMM offers all the conditioning and volumizing of Maybelline, without the irritating chemicals that are the cause of so many mascara allergies.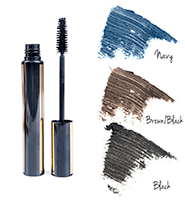 Now it's Your Turn
It's time for you to see what's lurking in your makeup bag. To complete your own shakedown, follow these steps:
Pick your top five most used cosmetics. They should be products you use every day (or nearly every day).These can include skin care (toners, astringents, scrubs and moisturizers), makeup and other cosmetics like deodorant and shaving cream.
Read the ingredients. Don't see any on the labels? Many cosmetics companies choose not to show ingredients on their packaging or labeling (hmm, I wonder why?). Sometimes the only way to get to the bottom is to research online.
Visit Skin Deep Cosmetics Database and search for your products. This website is amazing not only because you can find almost every product from every major brand, but it also makes it easy for the average person to understand the potential risks involved with each ingredient.
Replace with Safer Alternatives. We get it. Maybe you are in love with your foundation. Maybe you have had frustrations in finding that one perfect shade. However, now that you know the risks, is it really worth it?
What did you find lurking in your makeup bag?